Seasonal News

Fresh Atlantic salmon price reached new highs over the winter months. The cause of the increase can be traced back to more than one reason. The decrease in Chilean Atlantic salmon production as a result of algae blooms was one issue. Norway had an unusual outbreak of sea lice which curtailed their output. Couple these problems with an increase in worldwide demand and the result is rising price. Spring months have brought a reversal of this trend with prices falling little by little. We hope to see this continue.

One of our most popular fresh shellfish items is Salt Spring Island Mussels. These mussels are grown in the crystal clear waters off Vancouver Island in British Columbia Canada. There is only one company that produces this item and they are always in hot demand as a result of their incredible meat to shell ratio, delicious taste and great shelf life. In order to secure their reputation for only shipping the finest mussels, the company shuts down production each spring to allow for recovery from spawning. We expect production to be down through May 2017 To further explain the process, we quote them:
Mussels gain their distinctive "sweet" flavor from glycogen, a starch analogue. Spawning mussels convert their glycogen into glucose to make sperm (male mussels with white meat) and eggs (the females have orange or pink meats). This accounts for the bland flavor of mussels during and immediately after spawning. Spawning can also be a physiologically stressful event (causing mortality in many bivalve species) which makes the adductor mussel weaker. This increases gaping and reduces the over-all shelf-life. The guiding principle at Island Sea Farms is to produce top quality mussels with good meat-fill and high glycogen levels. For this reason, they will refrain from harvesting any mussels during the spawn cycle.

Poke ready tuna cubes are our second bit hit. Inside the easy to use 1# pillow packs are uniform half inch cuts that are perfectly red and ready to go into your favorite Poke recipe. This item is popping up on menus everywhere and this is the way to capitalize on the trend in the easiest way.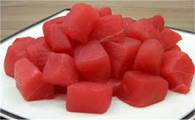 We have had tremendous success with some new frozen items. Customers have been asking us for easy to use, high quality frozen portioned fish that will enhance their menus with consistent variety and affordable price. Two of our new items fit this bill. Skinless boneless cry o vac 8 oz. Ono portions are now in stock every week. They are totally usable-no trimming needed - no loss! Packed in convenient 10# cases, they have been showing up at the tables of seafood restaurant, casual dining and catering events.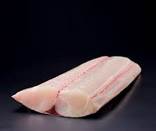 Fresh Northern Halibut season is going strong and will keep on going until November 2017. This year's quota is set at 31,400,000 lbs. This is the second year in a row that the quota has increased which points to the success of the conservation efforts imposed on this fishery. We expect the price to remain very constant throughout the season.