Seasonal News - November 2017

Frozen Alaskan Cod fillet has become a very popular seafood item. It has many appealing aspects which make it attractive to restaurants and markets. It is considered sustainable by the Monterey Bay Aquarium. The fillets are "candled", which means they are run over a light so that all pin bones stand out and can be removed. The flaky white meat is perfect for fish and chips and the price point makes it affordable for everyone from fast food to white table cloth dining.

The Cod season will begin on January 1st in Alaska. The last few years have yielded smaller fish and also less of them. This combination of circumstances has led to continuous price increases but the fish remains a good value in comparison to other seafood choices. Consider this item for your menu and remember to keep your mind open as far as choosing the size of fillet that you want - the smaller fillets will continue to represent the best value.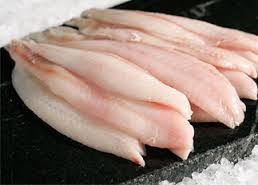 Winter is the time to put more live shellfish on your menu and in your seafood case. The summer months and accompanying warmer waters are known as the spawning time for Clams, Oysters and Mussels. The meat size on shellfish is typically smaller in the summer and the shelf life diminishes. As we get into the colder weather, the quality of clams, oysters and mussels greatly improves. Here is a look at the fresh live shellfish that we normally stock:
Littleneck Clams from the East Coast
Manila Clams from British Columbia
Blue Mussels from Prince Edward Island
Hybrid Large Mussels from Salt Spring Island in British Columbia
Mediterranean Mussels from Washington State
Buckley Bay Oysters from Vancouver Island British Columbia Canada
Chesapeake Oysters from the Mid Atlantic USA
We can get many other varieties of fresh shellfish with advance notice. And don't forget to save your shellfish tags for 90 days! It's the law!

The Wild Salmon season along the West Coast is closed for the year and it was not a really successful one. In fact, the United States Congress is considering a resolution that would declare the season a disaster and provide relief to affected parties. This practice is becoming more common as changing ocean conditions impact a variety of fisheries. Eight fishery failure requests since 2015, including the 2015-16 Dungeness crab and rock crab in California, the Klamath River fall Chinook fishery (Yurok Tribe) in 2016 and the Washington Salmon Ocean Troll fishery in 2016 have been formally declared failures. Eight others, including the Klamath River fall Chinook tribal fishery and California and Oregon Ocean troll salmon seasons for 2016 and 2017 are pending. Look for frozen at sea salmon prices to come in quite a bit higher than last year, particularly Kings.

One bright light on the Salmon market is the changing attitude of Sustainability Rating groups towards farmed Salmon. After the many decades of bad press, Salmon farms all over the world have worked hard to change the public image of their product by making their farming processes more sustainable and eco-friendly. The major issues that caused the public to shy away from the fish included overcrowding in the pens, antibiotics and other additives in the feed, fish escape and pollution caused by the stationary penned fish. Many (but not all) farms have changed to meet the public demand and are now getting a resurgence of better press. It is important to check the Monterey Bay Aquarium's website to see exactly which fish are improving their practices. We carry Marine Harvest and Cermaq from British Columbia, both of which carry a Yellow Light rating.

Mexican Shrimp price is trending lower than last year. There are good values to be had on 13/15 and 16/20 size of Wild shell on whites. The farmed Asian Shrimp market is also showing signs of good value. Consider more Shrimp on your menu - it is the #1 selling seafood in the USA.