Seasonal News - November 2018

Winter is coming which means soup time. When it comes to soup with seafood, clam chowder is king. We have a great option for clams to go in your chowder. Our favorite is Pana Pesca brand Baby Clam Meat. These easy to use 1# packs are totally chemical and additive free, yielding a meat that is sweet and tender with an incredible clean flavor. One of the great things about this product is that the small clam meats are whole and not chopped so the appearance in the soup stands out. The meat count is between 300 and 500 per pound which compares to a small Oregon bay shrimp. They are packed in a 50% meat 50% juice vacuum sealed bag which presents a better yield than most canned chopped clams. Coupled with the fact that they are guaranteed to be sand free and are a Monterey Bay Aquarium Sea Watch Green Light Best Choice, we can't think of a reason not to love them!

The winter months also mean the end of fresh Wild Salmon season. We strive to give you the best possible options for all varieties of seafood products and that certainly holds true with Salmon, the most popular finfish on the market. There are so many offerings on salmon that it can be overwhelming to decide which one is the right one for your establishment. For those who love to use Fresh Wild King Salmon, the best option for the winter months is Fresh Creative brand King Salmon, sustainably farmed in British Columbia. Creative Salmon Farm is the only Salmon farm in North America that raises the indigenous King (aka Chinook) Salmon. All others produce Atlantic species. Creative uses organic feed and keeps pen populations low to avoid overcrowding. In fact, to meet Canadian specifications for Organic fish farming, fish have almost two times as much space as conventionally farmed fish. No GMO products or hormones are used during production, insuring the most pristine and cleanest fish out there. But the taste and freshness tell it all. For the most discerning palates, Creative is the salmon of choice!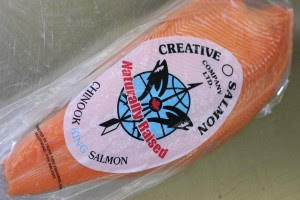 Mexican Wild Shrimp season opened in September. This year's catch has been a productive one and the price is predicted to remain stable. The majority of the shrimp are in the 13/15 and 16/20 size range which are the two sizes of Wild Mexican shrimp that we stock. The flavor and texture of Wild Mexican shrimp are considered to be the best in the world.

The Northern Halibut season for 2018 ends on November 7th. The catch was a productive one with stable prices all season long. The Canadian and U.S. authorities who sit on the board of the International Pacific Halibut Commission (IPHC) determine the quota for each year's catch some time in the spring. The numbers are determined to insure the long term sustainability of the Halibut populations in Western Canada and Alaska.

Eastern Sea Scallop prices were very attractive over the summer months of 2018. The reason for this was the opening of some fishing areas that had previously been closed. This resource has been very well managed by the New England Fisheries Management Council. The result is a scallop population that is above target level. Federal regulators have also put rules in place to minimize bycatch and insure that fishing gear does not negatively affect their habitat. The scallop price has been moving up steadily and this seems to be a winter trend as quotas are used up. Keep your mind open to using sizes smaller than a u/10 and you can still find good value.